FIVE QUESTIONS WITH MICHAEL VINCENT MANALO, VISUAL ARTIST
I came across Michael's work on DeviantArt back in January and thought it was extremely creative and beautiful. I figured an artist with this much talent must be incredibly busy, but thought I'd try anyway. I emailed him right away and he was very nice. He agreed to answer a few questions for me.
1. Thank you so much for agreeing to this short interview. Can you tell us how you came to be an artist, and why this specific genre?
So, first of all, I didn't graduate with any art degree, although I applied for a degree in Fine Arts but I failed (pre-university days). I came to be a visual artist, because I grew up surrounded by art, from painting, to drawing, performances to 3d modeling and also playing around with Photoshop in my teen years.
After university, I started a love for photography. I started saving for a camera but while doing this, I was also learning photo-manipulation through self-study and lessons online. I just continued everyday, dedicating most of my time after my job (I was working as an English teacher then) to create art.
2. Your portfolio says you graduated with a Bachelor of Science and majored in Nursing. If it's not too personal, what happened with that and does it run over into the art you create?
Oh absolutely! I think all that experience working in the wards, emergency room, and surgery room, made me see all-encompassing scenes of life; moments of loss, birth, hope, pain and longing were all there. All of these scenes scar you for life, both in a good way and a bad way and it was a big part on making who I am now.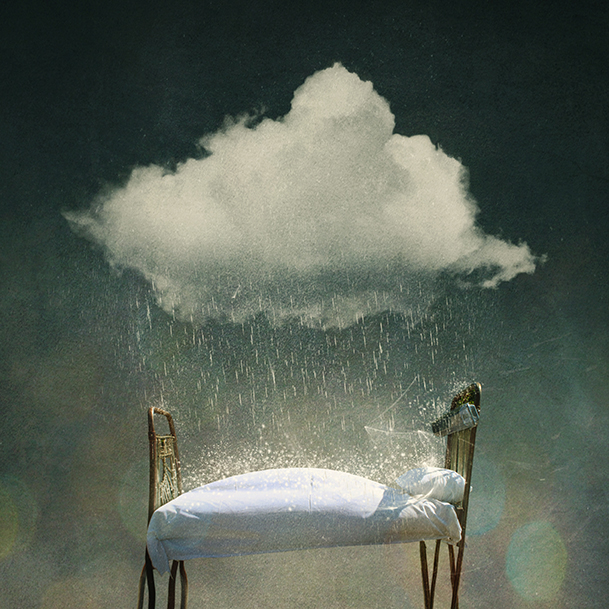 3. What's the process? Take us on a quick tour of beginning to end.
I think my process starts with a photograph, I imagine a memory from it, like it could have been my memory. Then the photo starts to become different because I remove something, add something, paint on it and then something else closer to what I have in mind appears.
4. Do you have a favorite piece? Or is there maybe one that took a bit longer to complete?
I personally love my work called: "The Mortal Boy King II" as it strongly relates to my attachment to my old home and also to when my passion for digital mixed-media started. For me, it is very nostalgic.
5. What are you currently working on?
These days, I'm working on several commissions for book covers and album covers. I can show you my most recent work (it's still unfinished):
Image provided by Michael Vincent Manalo